Heat Pumps: Frequently Asked Questions
There are many financial and environmental benefits associated with installing heat pumps which are the reason they have become very popular. But there are a lot of misconceptions and wrong information online, so we've put together some facts to dispel the myths and answer a few of the questions we are often asked.
What is the difference between an air source heat pump and a ground source heat pump?
The main difference is (as the names suggest) that air source heat pumps (ASHPs) take heat from the air whilst ground source heat pumps (GSHPs) take heat from the ground. There is also a difference in the price!
Can heat pumps produce enough heat for an entire home or business?
Yes. They can heat entire homes or businesses as long as the heat pumps are appropriately sized based on the insulation and heat loss of the premises.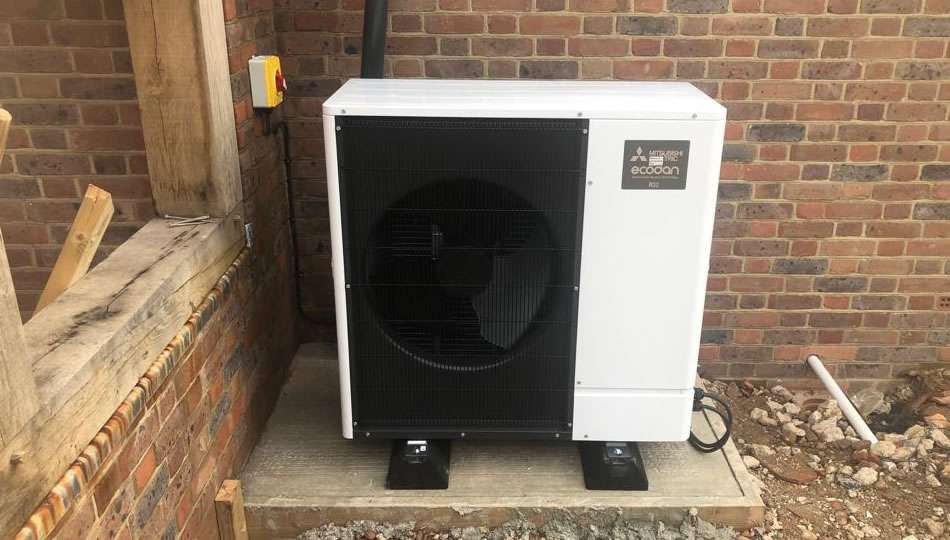 How do heat pumps work?
A heat pump extracts heat from the outside air or ground and converts it into energy that can heat your rooms via radiators or underfloor heating. It also heats water stored in a hot water cylinder for baths, showers and hot taps. The system includes an external fan unit that is installed outside your property. The fan passes air over an exchanger coil that contains refrigerant fluid. This fluid boils and turns into vapour, which is then compressed at a high temperature to heat your building and water, which is stored within a hot water cylinder.
What is the difference between air-to-air or air-to-water heat pumps?
An air-to-air unit heats (or cools) the building using a system of fans, while an air-to-water pump heats water that circulates to radiators and can be stored in a hot water storage cylinder.
Do heat pumps work in cold weather?
Yes. Our high-efficiency Mitsubishi Ecodan units work well in cold weather. Even down to -20C.
How much does a heat pump cost?
Without taking advantage of any incentives, the costs of installing an air source heat pump is typically from around £8,000, while ground source heat pumps can cost from £20,000.
Costs are based on the heat pump with a hot water cylinder fully installed with Nest digital wireless learning thermostat, electric meter, central heating filtration, limescale protection and allowing up to 0 metres between hot water tank and ASHP. Additional requirements such as a new hot water cylinder, underfloor heating and radiators, can be coated.
For an initial review of how much your property may cost to upgrade please email info@ohmenergy.co.uk.
What are the best heat pumps?
If you are choosing a new heat pump, factors like reliability, low maintenance, ease of installation, longevity and warranty are all top priorities. OHM Energy has been installing heat pumps for 14 years, and we have found that the Mitsubishi Ecodan has consistently ranked high in all of these areas.
Will a heat pump reduce my annual heating costs?
Not necessarily. It depends on the price of your electricity and how well insulated the building is. On a standard electricity tariff, as of July 2022, it's about the same cost to run a heat pump as a gas boiler. However, the situation is very fluid, so please contact us for the most up-to-date comparison.
Heat pumps are about three times more efficient than a 90% efficient condensung gas boiler but because carbon taxes are applied to electricity, running a heat pump is three times more expensive than running a gas boiler. So the net result is that as of the time of writing, it costs about the same to run a heat pump as a gas boiler, but the situation is constantly changing.
Environmental taxes add £93 to an average electricity bill but only £3 to gas bills, even though electricity is by far the greener fuel. If the government were to remove environmental taxes from electricity (which is being discussed), your heat pump would cost £100 less to run than a gas boiler.
Contact us if you would like a free evaluation of your home or business.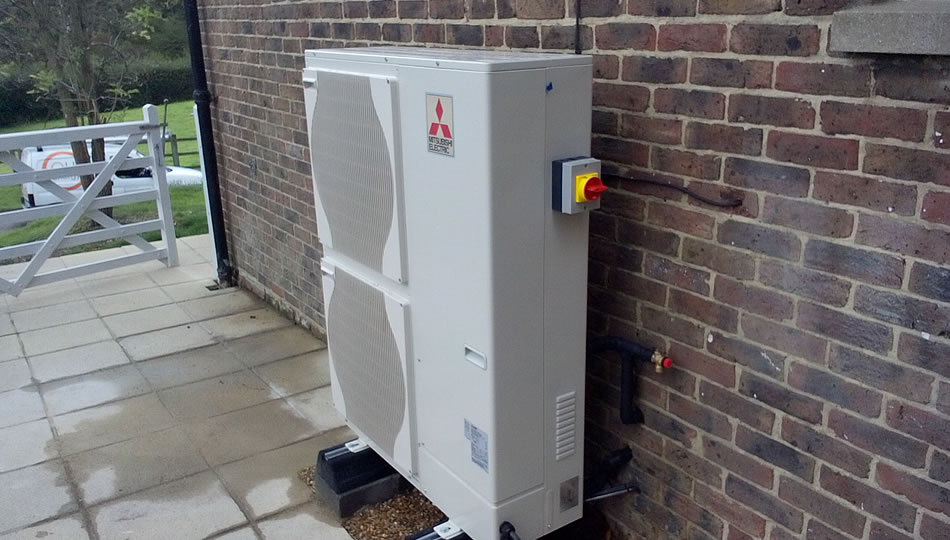 Can I offset household carbon emissions by using a heat pump?
It depends. Heat pumps use electricity to heat your home, so your carbon footprint depends on how your electricity is generated. If your utility provides electricity generated from renewable sources, you will reduce the carbon emissions from your household or business.
If 50% of UK households installed heat pumps, would the effect be?
We have roughly 28 million homes in the UK. Let's assume half of these swapped their gas boilers to a heat pump using green electricity that's 14 million homes.
A gas boiler currently emits, on average, 3.7 tonnes of CO2 per house whereas a heat pump only emits 1.6 tonnes per house. That makes an impressive 29.4 million tonnes of CO2 saved per year – a 6% reduction in UK carbon emissions. And that's only calculating 50% of homes!
Why does my heat pump briefly stop producing heat in cold weather?
In cold weather, heat pumps occasionally run through a short defrost cycle to remove ice from the outdoor unit. The defrost cycle lasts for only a few minutes and the heat pump temporarily stops producing heat. This is part of the normal operation of a heat pump, and you will not notice it is briefly off as the heat will already be stored within your house.
Why does my heat pump sometimes make a gurgling noise?
As refrigerant moves through the copper pipes between the indoor and outdoor units, it can occasionally make a gurgling sound. There is usually no need to worry about this sound, as it is part of the normal operation of a heat pump.
Is it true that heat pumps can double up as air-con?
Not in the UK. Heat pumps are not compliant with UK industry requirements as the power consumption for AC is high.
How often do heat pumps need servicing?
We recommend that you schedule a heat pump service at least once a year, especially if your heat pump is your primary heating system. Please contact our team for more service and maintenance information.
Do I need to replace my current heating system if I want to use a heat pump?
In most cases we look for the heat pump to provide 100% of the heating and hot water to be eligible for any Government Grant. When we review your property, we advise if any upgrades are needed to your current system. In some situations radiator upgrades will improve the performance and efficiency of your heat pump. In some instances heat pumps are combined to work alongside other heat sources.
Do I need planning permission?
Not usually. An air source heat pump installation on a domestic property is considered to be permitted development, so does not need planning permission, as long as ALL of the conditions listed in the link are met.
What incentives are available to me if I want to install a heat pump?
From 23rd May 2022, you can apply for a Boiler Upgrade Scheme grant from the government to get up to £5,000 to install an air source heat pump or up to £6,000 off the cost of a ground source heat pump. The £450m scheme is part of more than £3.9bn funding announced in last year's Heat and Buildings Strategy to help cut carbon emissions from homes. The government is operating a first-come, first-served basis and around 90,000 homes are expected to benefit. Please contact our team and we can help you apply for your grant.
---