Ground Source Heat Pump Installation in East Sussex
Our customer was off the gas grid and looking for a replacement for their dated oil fueled system.  They benefit from having a field and plenty of space to install a horizontal ground loop system, 800 meters in total.
With OHM support they benefited from the Government grant and we were able to combine with the solar system we installed to ensure the best use of electricity to run the system.
All existing under floor and radiators were utilised with the lower temperature heat pump system.  All heat losses were, as always, carried out by the team as part of the design process.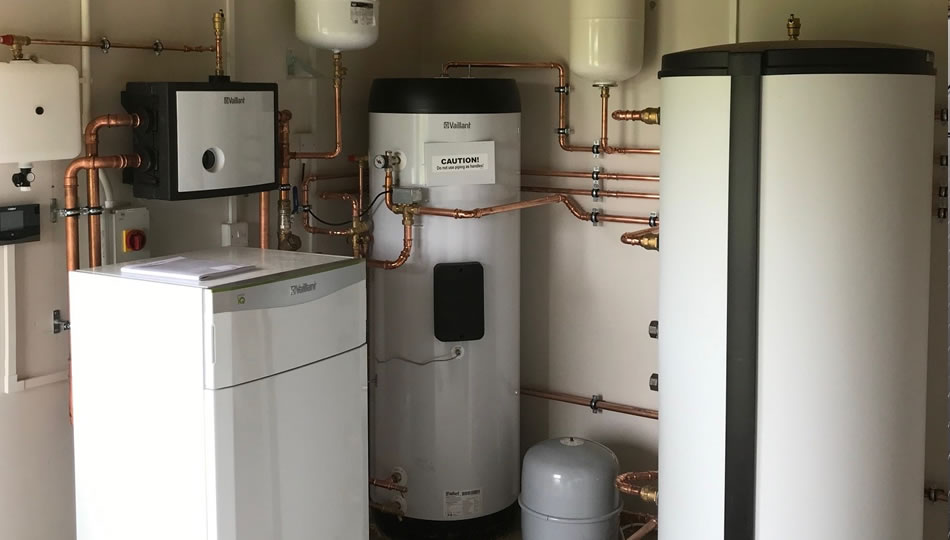 We installed a 15kW Vaillant FlexoTherm Ground Source Heat Pump on this installation, due to the compact and sleek design.  The plant room was purpose built, with 800m of horizontal ground loops being laid with a trenching machine in the adjacent field.  This system was tied in with a Solar PV system also designed and installed by OHM.
The customers are very happy with replacing the existing oil boiler and oil tank with the ground source option.
---
Vaillant flexoTHERM 15kw GSHP
800 meters of Ground Loops
300 litre hot water cylinder
100 litre buffer tank
Brine Pump
Weather compensating Controls