Renewable Energy Installation in Hastings
A conversion from a gas boiler to a heat pump, requiring the upgrade of the hot water cylinder to a pressurised 200L high gain cylinder. The 8.5 KW Mitsubishi Ultra Quiet unit was an ideal fit.  Some radiators were upgraded to work efficiently with the new lower temperatures provided by the heat pump to ensure maximum system efficiency.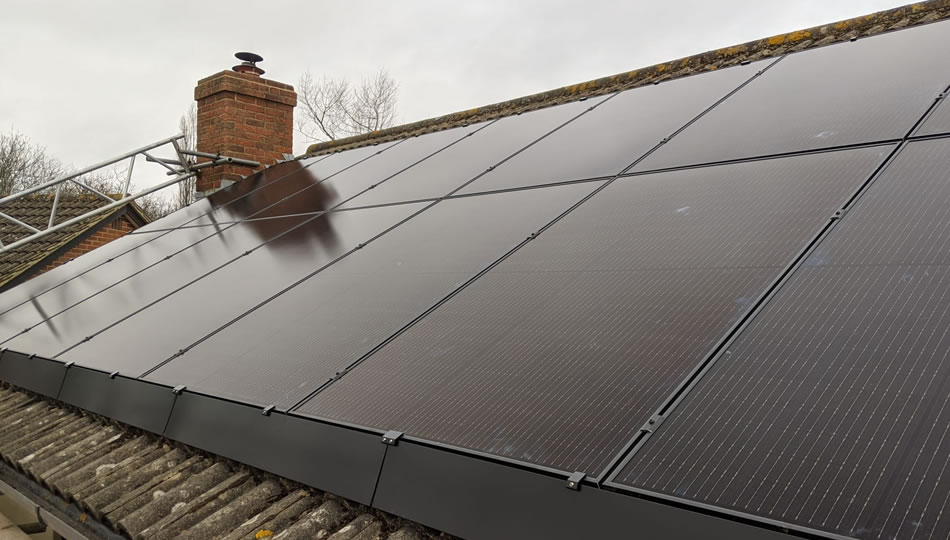 This system was combined with a Solar PV system and iboost to benefit from free hot water when the system is generating more electricity than required by the house.
SOLAR PV INSTALLATION
The array was designed and installed in conjunction with an Air Source Heat Pump. The solar panels chosen were 390W all black – combining high performance with great aesthetics.
Once the panels were installed, a bird protection system was fitted.  This has the advantage of keeping unwanted visitors out and adds greatly to the look of a project.
Having discussed the project with UKPN in advance, we could install with no export limitation to the grid.
---
Project Details
Solar PV – 14 x 390w Panels. Max output 5.46kW.
Solar Skirting to complete the project.
Payback on the project is expected to be just under 7 years and should save the client over £800 every year.