The Tesla Energy Plan
To maximise your savings, Tesla and Octopus Energy have created the new Tesla Energy Plan – an innovative low-cost energy tariff to help you – all owners of Solar panels and Powerwalls – the grid, and the environment.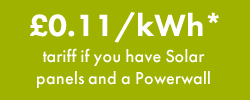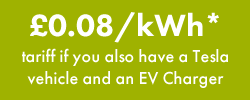 What is the Tesla Energy Plan?
This new energy tariff enables you to be part of Tesla's UK Virtual Power plant. Your Powerwall battery will be managed by Tesla and connected to a growing network of homes across the UK. The plan helps support the energy needs and stability of the electricity grid while providing you with ongoing savings through giving you the most competitive rates in the market.