Training for the future
Design T-Level students from East Sussex College, Eastbourne, recently presented their vision for an eco training hub in an exciting new competition.
The hub is the key for an exciting new decarbonisation training programme being developed by OHM Energy and  East Sussex College. With this venture, ESC will become a leading green energy training provider and a college for the future.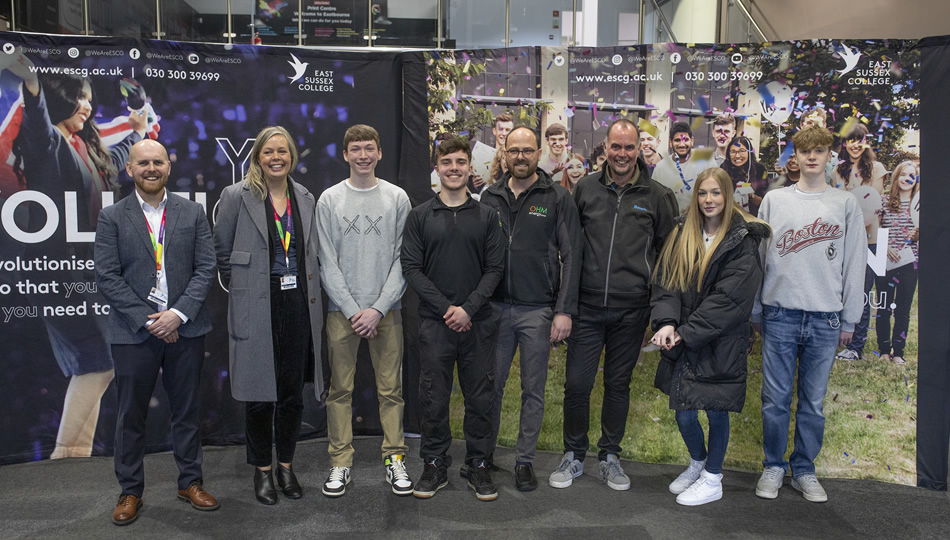 The eco training hub
A competition was held for Design, Surveying & Planning  T-Level students to work on a real client brief, design the future and present their vision of our eco training hub in a commercial unit in Hampden Park.
Future training at the new hub will cover multiple renewable energy initiatives, including heat pumps, solar energy, electric vehicle charging points and retrofitting older properties. This exciting new initiative will ensure the future workforce is equipped with the knowledge and skills in cutting-edge green technologies.
Political support
The students' CAD designs were viewed by Michelle Donelan, Minister of State for Higher Education & Further Education,  and Caroline Ansell, MP for Eastbourne and Willingdon, on a campus visit at the end of March. 
The competition
It took three months, from delivering the brief, with students studying solar, retrofitting, wind energy and heat pump technology, to ten students presenting their designs to a judging panel in the commercial unit at Hampden Park industrial estate on 1 April.
The judging panel consisted of Rebecca Conroy, ESC Principal & CEO; Robert Cottrill, Chief Executive at Lewes District Council and Eastbourne Borough Council; and Jason Lindfield, Managing Director of OHM Energy.
Robert Cottrill addressed the first year T-level students, saying,  "The quality of work is outstanding. Every single one of you grasped the strategic concept of the brief you were given; how you've translated that and presented it back to the panel blew my mind. The work is up there with the work of consultants. It can be a struggle to recruit surveyors with an eye for detail; the skills you are learning on this course will put you in high demand."
And the winner is…..
Winner Aiden Hill impressed judges with how he answered all the elements of the brief and presented issues and details that even the judging panel hadn't considered. "It's outstanding work," the judges said. Aiden's design concept will now be used to develop the space into the ESC training hub due to open on 12 August 2022. 
Our comment
Jason Lindfield, MD of OHM Energy, said,  "OHM brings 20 years' commercial experience to the project, delivering the training so students can enter the workplace with the knowledge required. We are mindful that there are not enough educated engineers in renewable energy. We bring in our experience to change that. For me, this is the completion – full circle. Our on-site engineers, reaching the end of their careers, now move on to training new apprentices in renewable energy. This project demonstrates that you can combine environmental and commercial ventures successfully. This emphasises all we do."
---